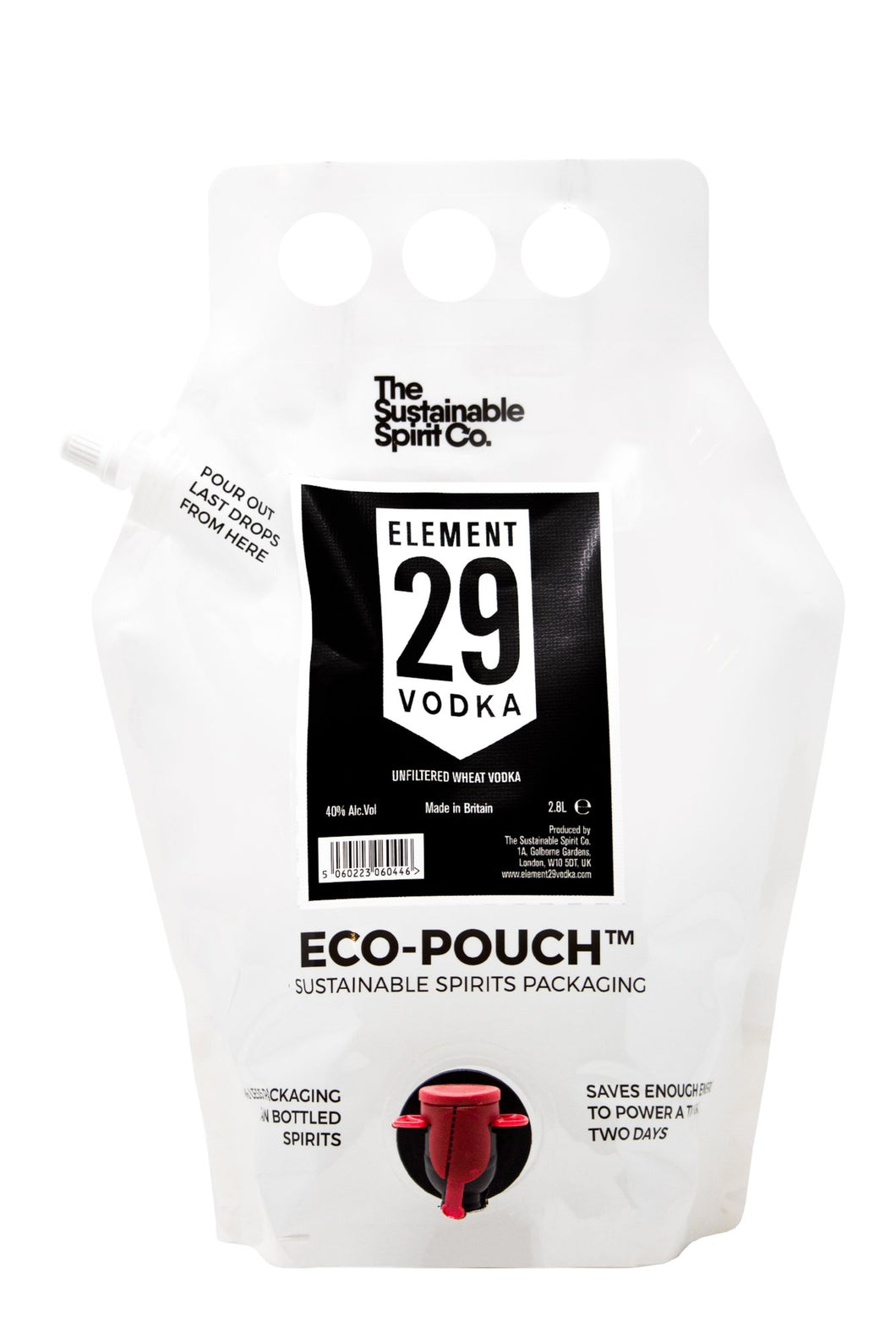 Element 29 Vodka 2.8L Eco-Pouch
Regular price £120.00 £96.00 Sale
The Element 29 Vodka bottle is thing of beauty that is made to last - white flint glass with ceramic decoration and a copper curing spiral.  It seems a shame to toss an empty bottle into the recycling basket.  Well you don't have to - thanks to the EcoPouch.  The most environmentally friendly way to buy spirits.

The EcoPouch contains the equivalent of 4 bottles of Element 29 Vodka - but costs 20% less.  Refilling a bottle from an ecopouch also produces over 1kg less CO2 than buying a new bottle.  We think it is a true win-win.
Whats more is that you can also send the pouch back to us for re-use once it is empty - just email us to request a mailing label.
Premium British artisan vodka made from the finest east Anglian wheat, copper distilled in the Black Country, cut to 40% ABV with sussex spring water. The taste is clean and rich, full of natural grain sweetness with subtle notes of grass.
Copper is essential to quality distilling. Its supreme heat conductivity allows gentle, precise distillation. Copper's unique chemical properties remove ugly tasting sulphur compounds from the distillate that would otherwise taint the flavour of the vodka. Lesser spirits mask these flavour taints with artificial additives or attempt to filter them out with anything from activated charcoal to diamonds.
Element 29 vodka is so pure that neither flavouring, nor filtration is necessary - allowing a full expression of intrinsic natural flavour.